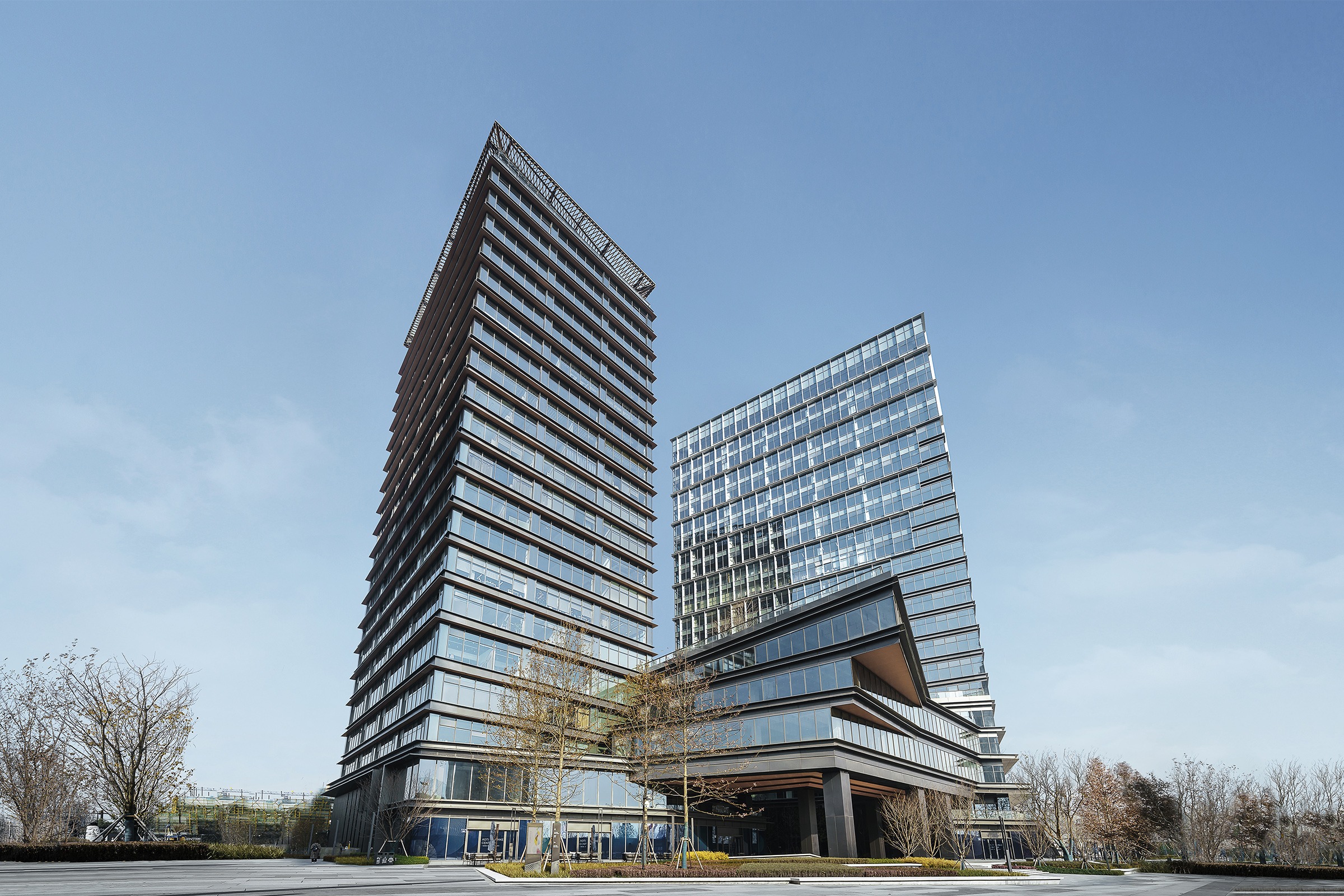 Aoti Vanke Centre
Location
Hangzhou, China
Site Area
13,969 sqm
GFA
95,521 sqm
Client
Huayun Xinde Real Estate Co., Ltd
Located at the heart of Qianjiang Century City central business district, Aoti Vanke Centre is made up of two office towers and a podium, perceived as the gateway of the emerging Asian Games Village of Hangzhou.

With LWK + PARTNERS as Design Architect and Interior Designer, this sleek new office complex reinterprets the podium-tower typology with each level of its elevated podium rotated by a different degree to create myriad walk spaces for people's enjoyment. The programmatic stack blurs the work-life distinction and lends itself towards a smarter urban lifestyle for the next generation, promoting interactions, active engagement and sustainability.

The ring-shaped podium is lifted off the ground to create a central courtyard, while the semi-public podium roof garden serves as a bridge between the two towers, promoting symbiosis and creating networking occasions for building users. It also allows the passing through of a double-height covered outdoor space, as well as providing a north-south shortcut across the longitudinal site. This operative subdivision of the lot brings down the development to a human scale, experienced and enjoyed by the building users and pedestrians at large.

Multi-layered greenery is implemented in the project, interpolating 95,521 square metres of floor area with oxygenating breakout spaces, to strive for a more nature-oriented equilibrium between the architecture and landscape. Building users will enjoy tangibly the abundant greenery, natural sunlight and air flow.
Winning Awards
A&D Awards 2021
Architecture – Best Workplace (Finalist)
The 15th International Design Awards 2021
Architecture Categories – Commercial Building (Honorable Mention)
German Design Award 2022
Excellent Architecture - Architecture (Special Mention)
2021 World Architecture Festival China Design Awards
People's Choice
The 7th CREDAWARD 2020-2021
Public Building (Merit Award)
Architizer A+Awards 2021
Commercial – Office Building High-rise (16+ floors) (Special Mention)
The MUSE Design Awards 2021
Architectural Design – Office Building (Platinum)
International Property Awards – Asia Pacific Property Awards 2019-2020
Office Architecture for China (Winner)
PropertyGuru Asia Property Awards 2018
Best Office Architectural Design, China – Winner
Asia Best Office Architectural Design – Finalist