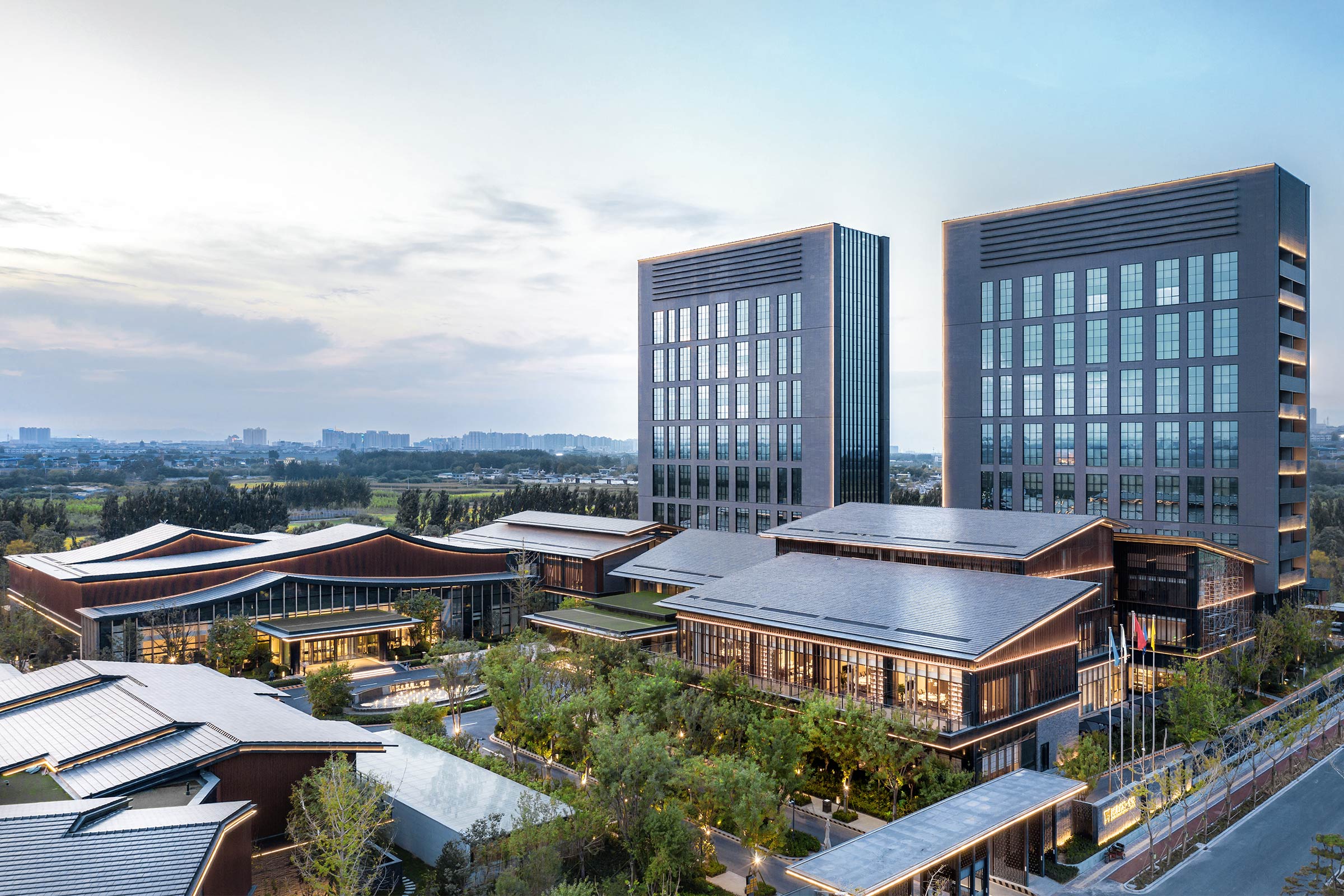 Hebei Grand Hotel, Anyue
Location
Shijiazhuang, China
Site Area
47,246 sqm
GFA
80,386 sqm
Client
Hebei Zhonghong Real Estate Development Co., Ltd.
Grand Hotel, Anyue draws inspiration from the ancient city of Zhengding, the hotel synthesises elements from classic Chinese architecture with the needs of modern society. It is part of the Zhengding Li Mixed-use Development, a retail-led precinct also designed by LWK + PARTNERS.

With a masterplan inspired by the ancient city, the hotel is north-south oriented with two medium-rise towers and 60 villas orthogonally arranged along the central axis. The hotel towers offer a total of 200 guest rooms and are designed with single-loaded corridors to maximise river views for the suites. By shifting and staggering the resort-style villas secluded pocket spaces are created, whilst the double-storey blocks are connected by a smooth flow of courtyard gardens and covered walkways for a seamless landscaped exterior and an unobstructed spatial experience. Traditional architectural elements are reinterpreted and incorporated throughout the hotel, from façades, pitched roofs and iconic pillars to courtyards and guestroom interiors.

Nature is part of the experience at Hebei Grand Hotel, Anyue. The whole development is brimmed with verdant landscaping, with green roofs placed on some of the villas to reduce interior heat gain and energy consumption, as well as various water features to minimise heat island effect. PV panels are installed at the south-facing pitched roofs to further maximise energy efficiency, while overhang roofs keep the buildings cool in the summer.

Lighting of the hotel traces the silhouette of pitched roofs, recapturing the beauty of morning haze over the mountains and giving a serene yet intriguing ambience throughout the hotel.
Winning Awards
Architecture MasterPrize 2021
Architectural Design – Hospitality Architecture (Honorable Mention)
The 7th CREDAWARD 2020-2021
Public Building (Merit Award)
The MUSE Design Awards 2021
Architectural Design – Hospitality (Silver)
MIPIM Asia Awards 2020
Best Hotel & Tourism Development – Silver Winner
LIT Lighting Design Awards 2020
Honorable Mention
HKIA Annual Awards 2019/20
Finalist, HKIA Medal of the Year Outside Hong Kong
15th Kinpan Awards 2020
Best Hotel of the Year (Beijing Division)
International Property Awards – Asia Pacific Property Awards 2019-2020
Hotel Architecture for China (Winner)