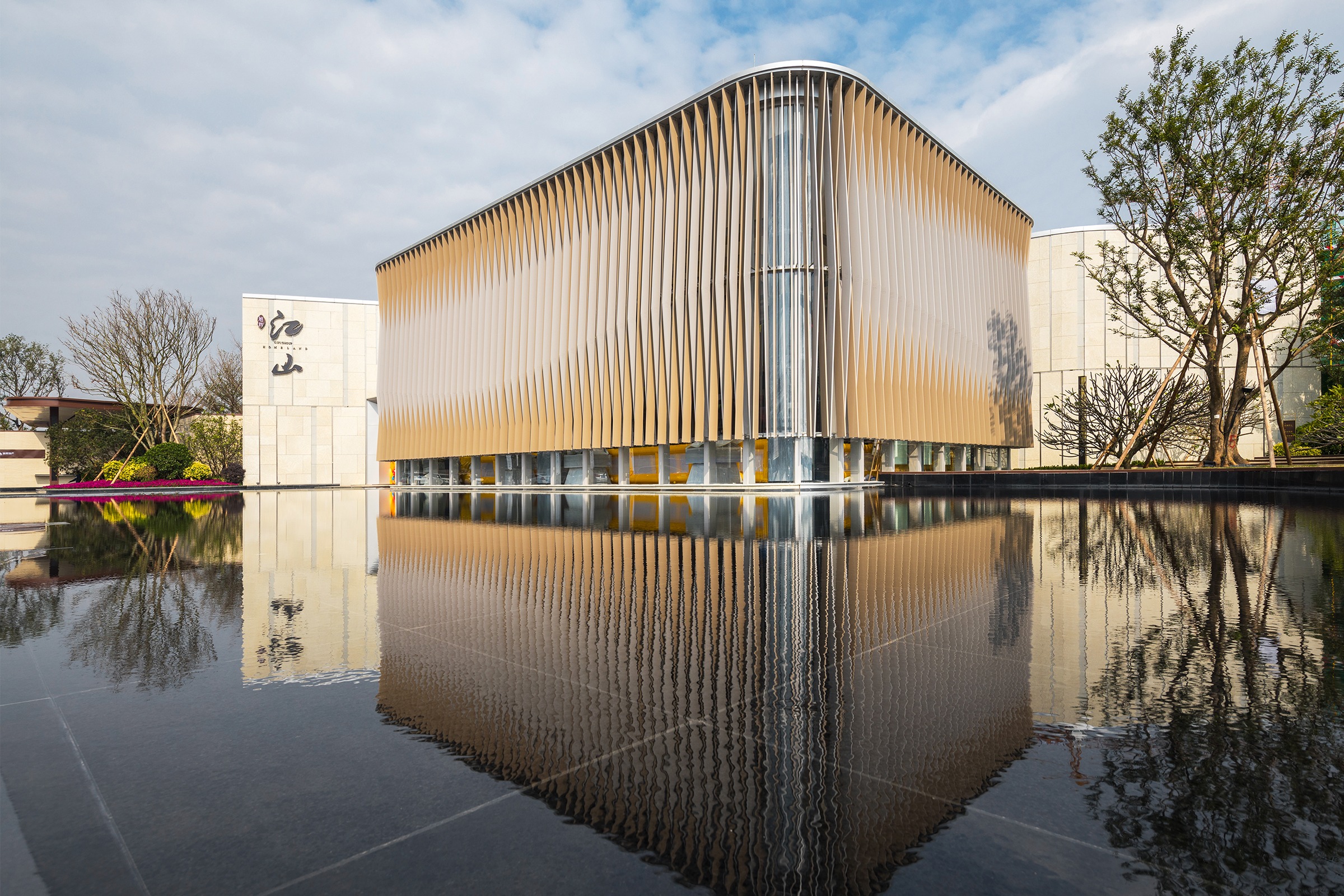 CIFI Group Homeland Sales Centre
Location
Foshan, China
Site Area
1,500 sqm
Client
CIFI Properties
Located at the intersection of Lucun Road and Songhe Road in the Sanshui district of Foshan, China, we made use of the geographical location of the project to bring focus to the site. Through connecting the main circulation of the building to the two arterial roads, a floating cubic treasure box, The Cube, stands out above the waters.

The Cube is the core display area, encircled by the reception area, bar, meeting area, VIP leisure area, and other areas. Its design not only reflects the client's pursuit for quality, but also the future development of the area. A novel and modern design approach that fulfils the project's pragmatic functions was adopted for the project.

The façade design demonstrates delicate craftsmanship – the glass box is encased by a curtain of louvers, orchestrating a rhythmic symphony of light and shadows on the building's envelope. Composed of over 1,000 individual metal fins, the curvature of the organic façade was carefully designed, calculated and installed using a curtain wall system based on parametric analysis and utilisation of BIM technology. The concept of a silk cloth wrapping around a treasure box was vividly made into reality.

The streamline stone wall facing the street was introduced to attract pedestrians' attention and them to the display hall at the centre. Every fin of the structure refracts sunlight to maximise interior natural lighting while mitigating excessive direct sun glare. The contrast of glass and the metallic curtain wall and the blending of indoor and outdoor spaces give the architecture its distinctive graceful aura.
Winning Awards
13th Kinpan Awards 2018
Best Residential Complex of the Year (Guangdong and Guangxi Division)
Best Residential Complex of the Year – Grand Final