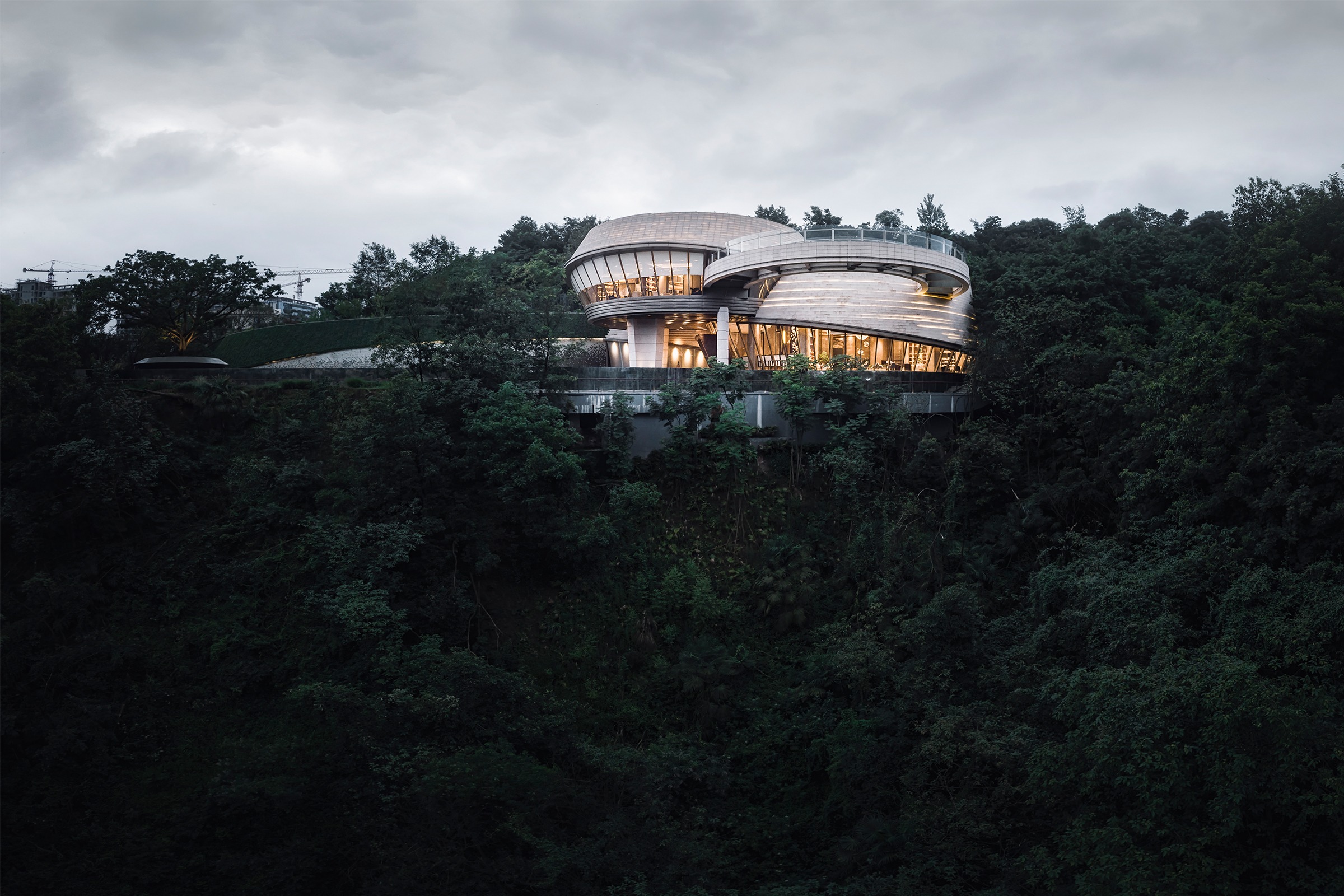 The LOOP
Location
Chongqing, China
Site Area
Approx 1,367 sq m
GFA
Approx 1,605 sq m
Client
Longfor Group
The LOOP is the sales gallery for Shun Shan Fu, a low density residential development composed of various luxurious villas and houses. Located on top of Zhaomu Mountain, Chongqing, it is conceived as a brilliant gem hovering on top of the magnificent landscape of Zhaomu Mountain. The project features two showrooms, linked by a glass-bottomed bridge – The Skywalk.

With the use of full steel frame structure and an onion ring-like cladding system, the undulating forms of The LOOP echo and integrate with the dynamic contours of the site, while The Skywalk grants visitors an unbidden view of the valley to admire the lush greeneries.

The steel frame enabled The LOOP to transcend the separation of supporting structure and external cladding, and allowed the two to engage in a meaningful interaction. The concept for the cladding was "layers of onion rings". In order to give the architecture its visual dynamicity and conform to the need for texture demanded by the status of the project, quality stone slabs were sourced for this key feature. The slabs are arranged in a horizontal manner, and stacked vertically on varying levels. The resulting onion rings correspond to the overall architectural concept of The LOOP. The adjustable space between the rings allows room to accommodate discrepancies in the slab dimensions.

Taking advantage of the geographical location, The Skywalk has a glass bottom to minimise obstruction to the magnificent view of the valley. The glass-bottomed bridge is aesthetically pleasing and pragmatic in function. The bridge also contributes to the concept of "a gem hovering on top of Zhaomu Mountain", as the clear glass gleams and refracts like priceless precious stones at night.
Winning Awards
The 4th CREDAward 2018
Merit Award
12th Kinpan Awards 2017
Best Pre-sale Residential Project of the Year
A&D China Awards 2018
Best Commercial, Retail & Office – Certificate of Execellence